Waste Free Living
So, one of the big things I have been researching and slowly trying to integrate into our every day life, has been to move toward a more waste free lifestyle. 2018 was by far a huge year for us in terms of travel, and we were living in quite a fast paced manner where we weren't necessarily stable for anywhere longer than a few weeks. While we enjoyed it, learnt a bunch, experienced and saw a whole lot, we unfortunately were not being super kind to our planet with our 'short term' lifestyle.
This referred to getting quick snacks here and there (usually covered in plastic and all kinds of packaging), ordering things online as time was limited to go shopping (comes in a bunch of packaging), buying groceries for only a day or two ahead (then ended up still buying too much of some things and throwing them away), or ordering takeout (packaging). Need I say more? You see the pattern I guess! I could literally go on. I was also getting tired and frustrated of having so much garbage that we were changing the trash can almost daily or best case, every second day. That is a LOT of rubbish!
The goal essentially is that, while we have decided to at least stay put for minimum 1 year here in Prague, it's an ideal opportunity to start being much more mindful about how we live our every day life. The first thing I considered was where the most of our wastage was coming from. Immediately, it was very easy to see it was primarily coming from our groceries!
At the store, 90% of fruit and vegetables seem to come in plastic packaging, and we were often not planning ahead and only buying smaller packages with as close to the amount of what we needed for 1 or 2 meals. And after a couple of takeaway coffees here and there, some takeout lunch/dinner, it all builds up so much. And from my experience of the last few months, once you really start watching what you're doing with wastage, you start frustrating yourself.
So basically, the first step we took, was to pick up a few containers and jars from IKEA, which I then took to a local waste free store called Bezobalu. We are super lucky actually that it's so close to our house and so affordable! We are able to get all our grains, legumes, seeds, rice, lentils, oats, chickpeas and beans without any form of packaging. Basically a vegetarian's delight! Anything else that we can't get from Bezobalu, we still get from a regular supermarket and from a farmer's market. (Yay for farm fresh fruit and vegetables, plus it's fun to explore the local produce!).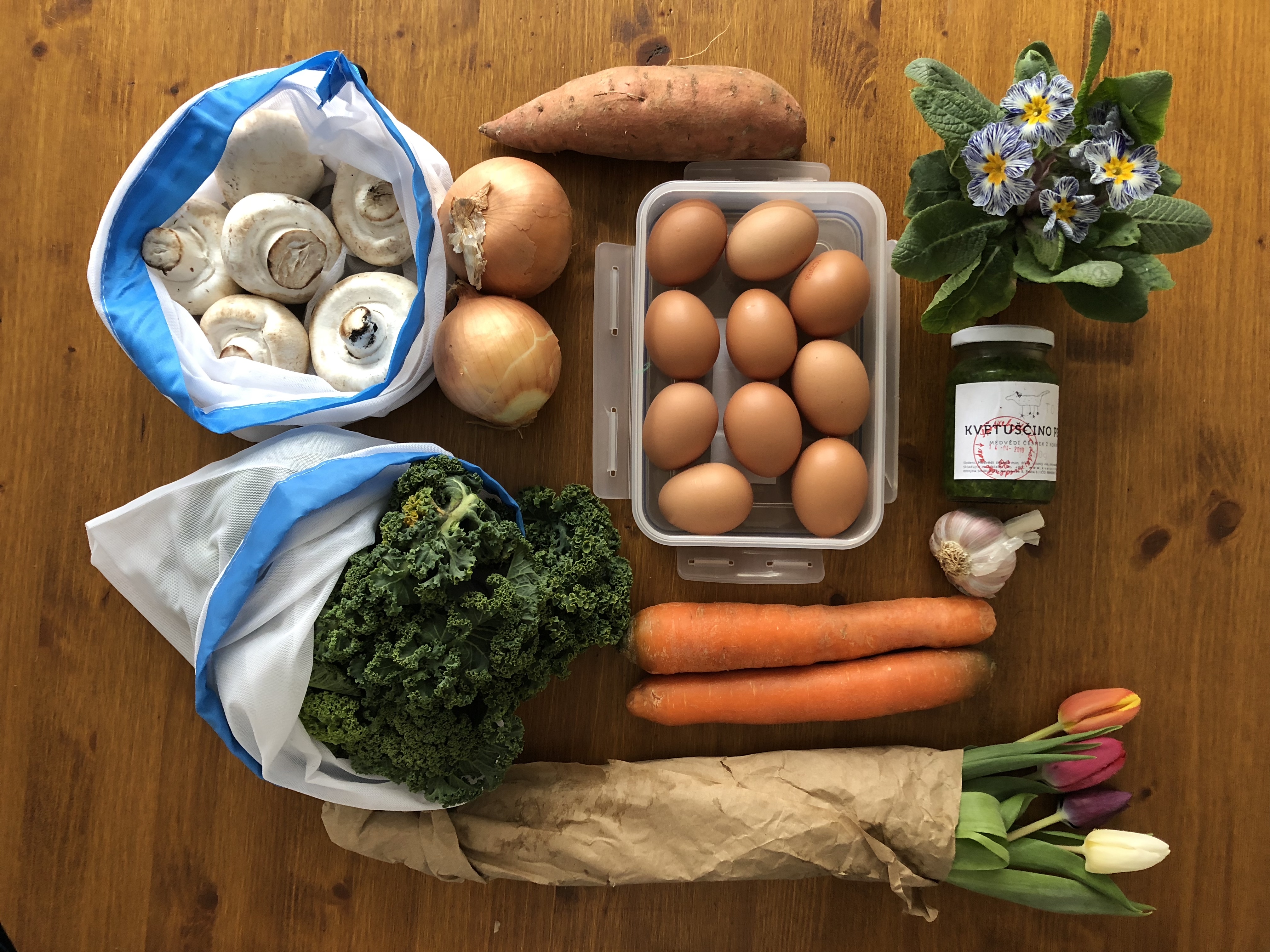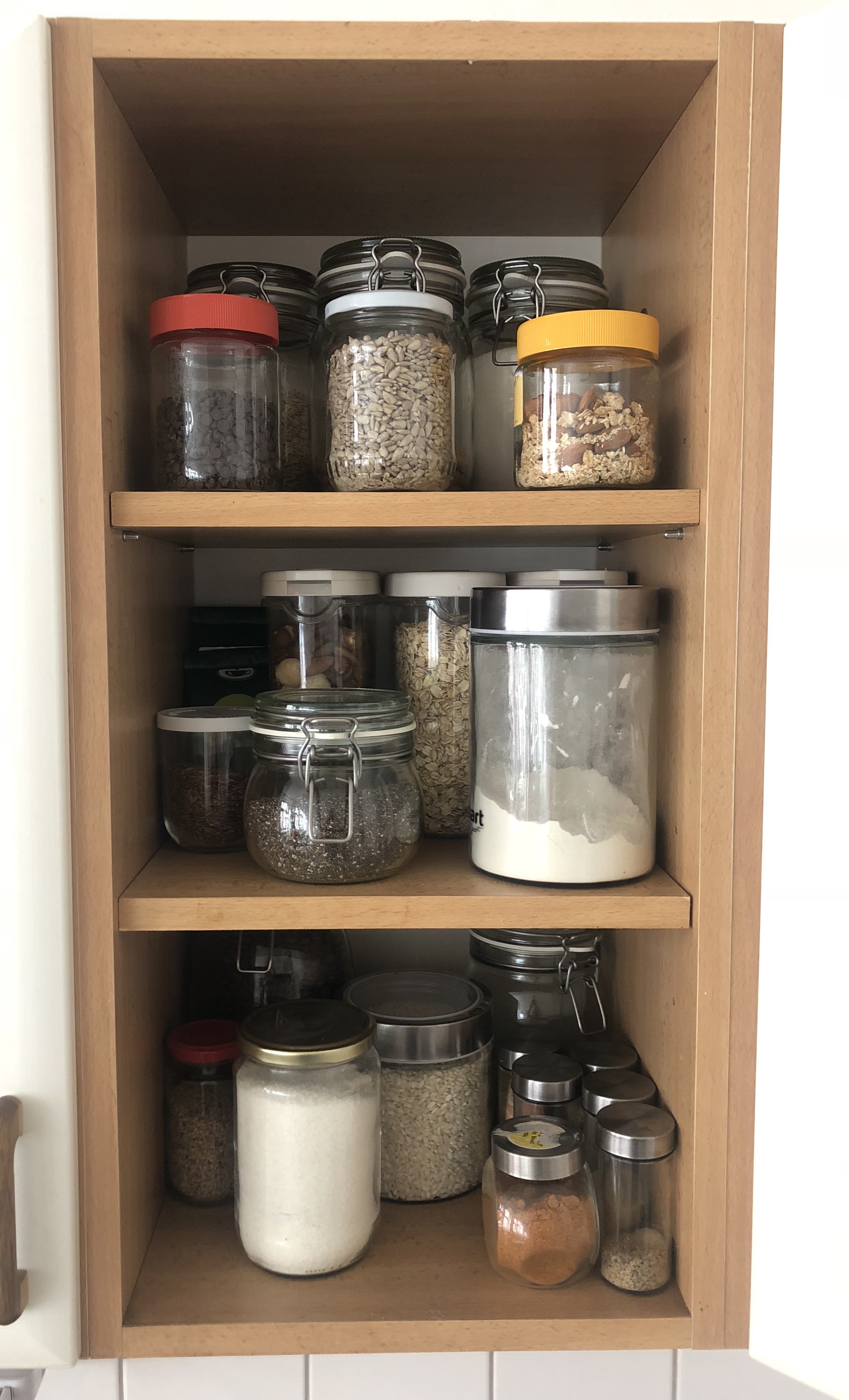 Some general things I've learnt so far:
– When there is no other affordable/cheap option but to buy a product in packaging from the supermarket, glass should also be the first priority. If that's not an option, then at least try to buy it in bulk and store it in another storage container if need be.
– As a couple, we can't save the world, but if we can at least prevent our own wastage, bring awareness and help others, then we feel that we are doing our bit.
– Despite previously thinking you had to spend a lot of money to live waste free, it is actually a way to save money on a longer term basis and to be more clever about how you actually spend your money on a longer term basis
– It's actually very easy to make a lot of products that we use all the time, such as stock, tomato of any type that we usually get from a can (crushed, puree, etc), hummus, pesto, muesli, etc.
Each week, we create a bit of a dinner menu for ourselves which also includes having leftovers from each meal for Maurice to take to lunch the following day. This has helped us to plan with ingredients that crossover and can be used a few times during the week. In turn we're more effective with what we buy, which makes us more financially aware as well as 'waste aware'.
I have also started to try making products instead of buying their packaged versions. So I recently tried making our own veggie stock from vegetable scraps – I simply just keep them all in a container in the freezer until it's full enough to make a batch with, then I store the finished product again in the freezer until we need it. I've also made my own granola with products from the waste free store of course and with ingredients I could choose myself without the additives, so nice! And it's often easier to buy a bigger batch of vegetables from the store due to packaging, so when we have some leftover from the dishes that we are making for the week, we cut them up and put them in a tub in the freezer for use later. I've also made other tasty treats like pesto and hummus which store really well too. I hope to continue this trend with some other products in the near future too!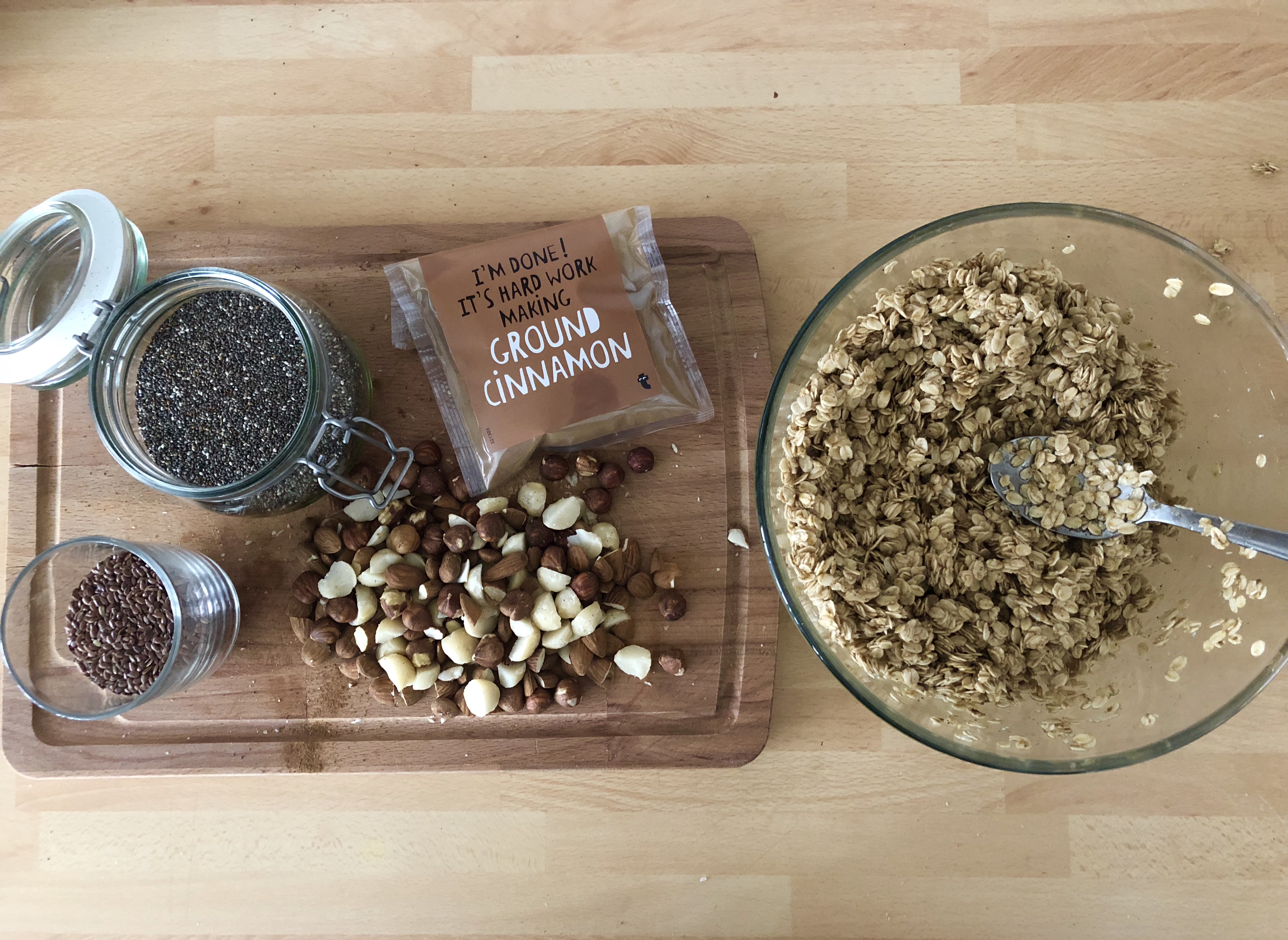 What's next for our waste free journey?
Ultimately to wipe out usage of any processed packaged products as much as possible, and the next focus will be on:
– visiting a farmers market more often for our fruit and veg (at least on a weekly basis)
– shampoo, conditioner, shower gel (potentially to try a few types of shampoo bars and maybe make our own shower gel)
– cleaning products such as surface spray, dishes cleaner, dishwasher tablets (to try making our own cleaning spray for sure, with the rest we are still trying to figure that out)
– I've started volunteering with a community garden project in our local neighbourhood, so hopefully once the permits and funding is all secured, we will also be able to grow some of our own produce there in the Summer!
If you're interested in learning more about our waste free journey or have any advice for us, please do get in touch! We would love to discuss this more 🙂