A weekend trip to Attersee
One of the reasons that we wanted to move to Prague is to be closer to the mountains, and close to the mountains we are! A few Fridays ago we left Prague around 6am to drive to Attersee, a lake in the north Austrian Alps. The drive took about 4 hours, so around 10:30 Kirra and I were chilling at the lake, with a beautiful view and a very pleasant temperature. While Kirra was studying in the sun, I spend some time meditating under a tree, and I tried several times to emerge myself in the lake, but it was just too damn cold.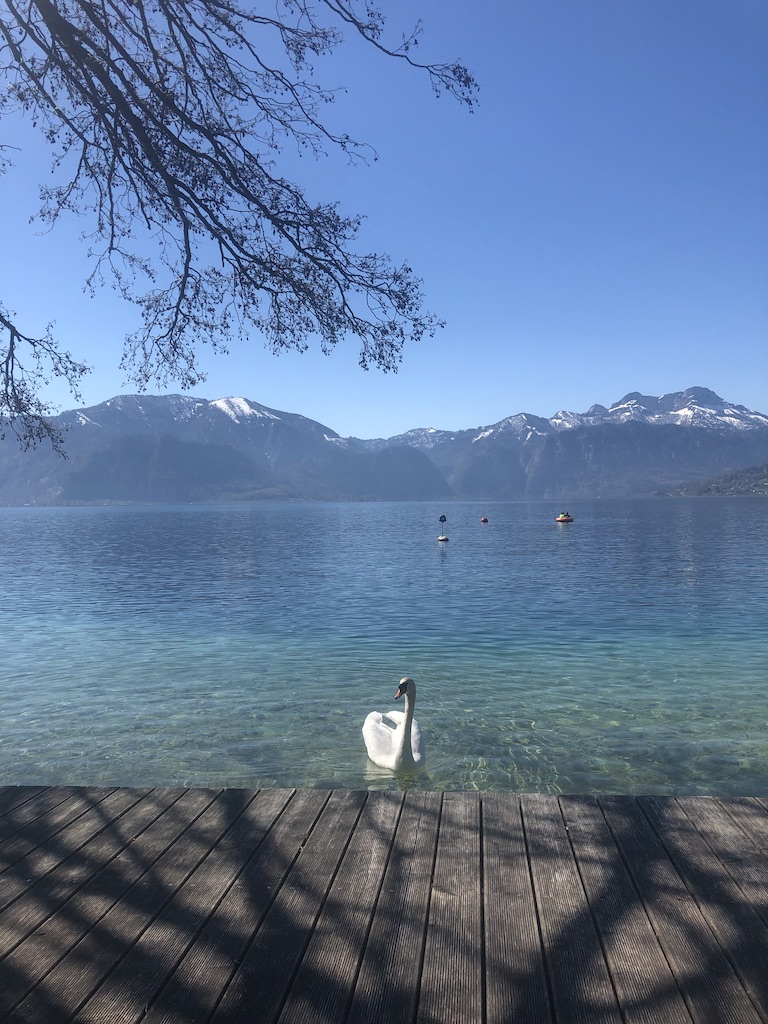 We met up with two friends later that day and we hung out around the lake while drinking a couple of beers and enjoying our beautiful surroundings. Our plan was to do some hiking, but we were all so relaxed, chilling in the sun, that we ended up spending basically the whole day at the lake. We had our burned skins as proof. I finally took a dive into the lake, but only because our friend was there and we dared each other, and let's be honest, boys will be boys. And man, that lake was cold.
We had a lovely Austrian dinner at a local brewery together before our friends headed off again. As the sun was setting, temperatures were dropping so Kirra and I quickly sneaked into our tent and slept 10 hours straight before waking up to an amazing view in the morning.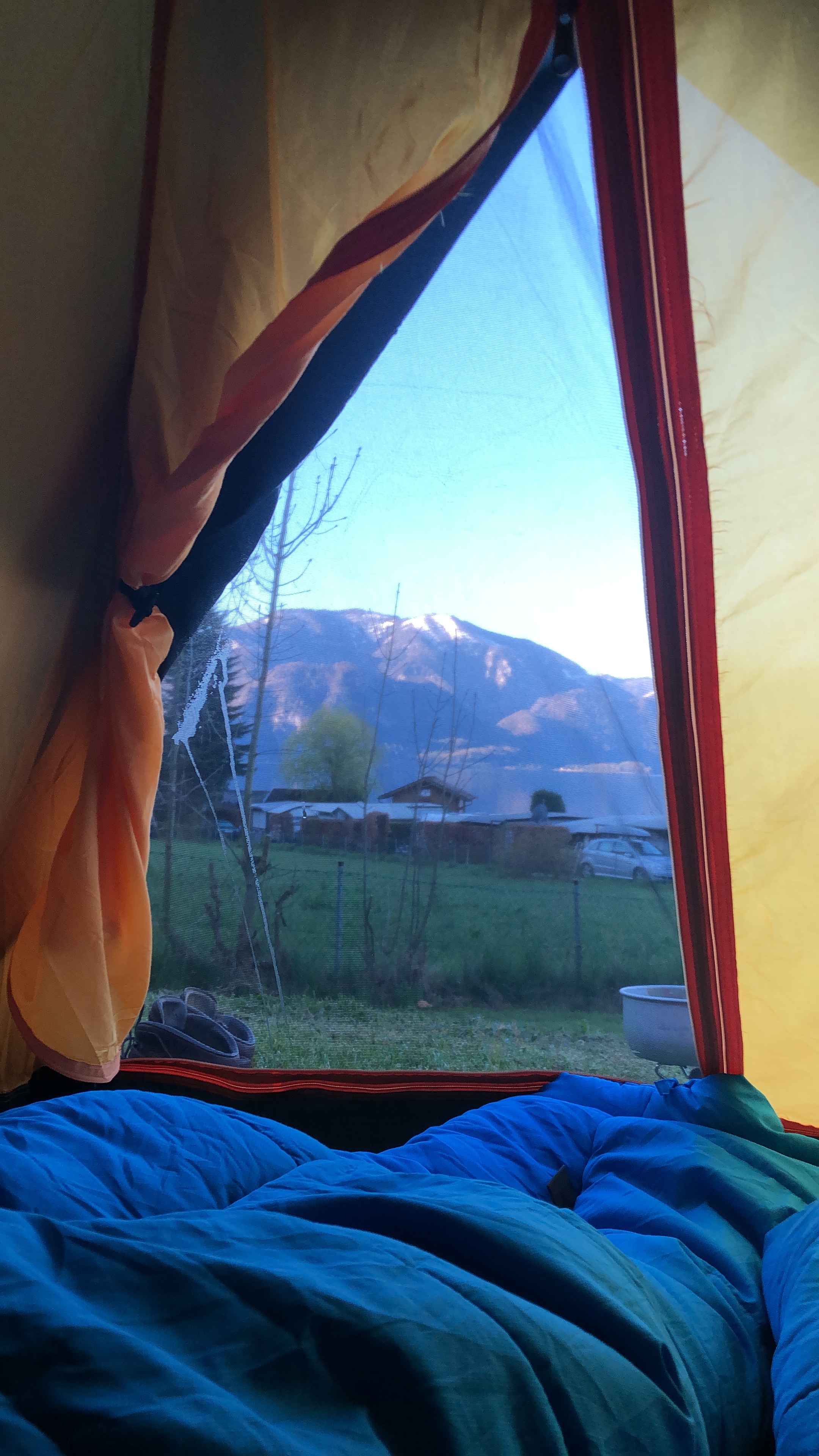 As the temperatures were slowly rising again, our cosy thermals made place for shorts, skirts and t-shirts and we ventured deeper into the Alps towards Hallstadt, a supposedly must-see destination. The drive to Hallstadt was way more impressive than the town itself; driving through the mountains and seeing the endlessly green pastures with snow topped mountains in the background was really amazing. Hallstadt was quite disappointing, as the calmness of the mountains was disturbed by busses and cars full of tourists with their cameras ready to take pictures of the town, the lake and the mountains. It's kind of sad to see this huge gathering of tourists in this one place, just because it's mentioned somewhere (actually, Hallstadt is mentioned in a lot of somewheres). Herd behaviour at its best.
After our lovely drive through the Alps we returned back to our campsite for a very active hike… from our tent to the lake, from the lake to the bar and from the bar back to the lake. Kirra had to study some more, and I was chilling at the lake, doing some reading and meditating while feeling the most relaxed I had felt in a long time.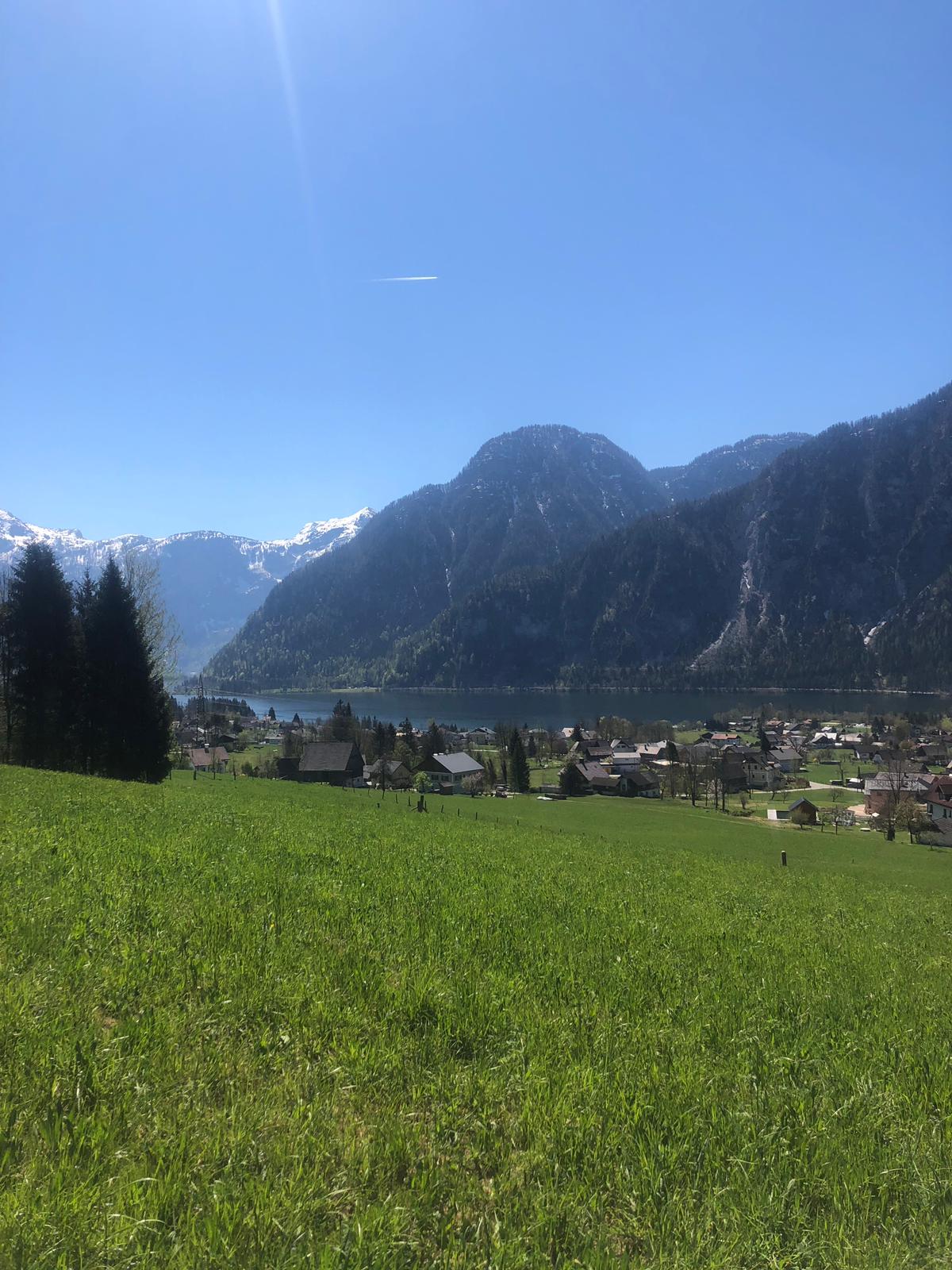 During the evening, we cooked some food on our little camping stove and we fell asleep under a starlit sky. And in case you are wondering; yes it was cold during the night (+/- 4 degrees), but we have great camping gear for winter-ish conditions so we were all snugs and cosy in our tent.
We left the campsite on Sunday to drive back to Prague, but we took a different route than the one we took to get there. We drove through Germany, through a lovely town called Passau, and through Šumava National Park on the German/Czech border. That national park looked amazing with rolling hills and green forests. Not as impressive as the Alps, but closer to home and very pretty, so we might check that out some other time.
It's so nice to be living this close to these beautiful lakes, mountains, forests and national parks, and especially now that we're heading towards summer, we're certain that we will be exploring way more soon!