India – Week 4, Part 1: Dharmavaram and on Doing Good
Kirra's grandparents Lyn and Ian are members of the local Rotary club in Narre Warren, Australia and they have worked together with a multitude of organisations over the past decades. SEDS is one of these organisations, as is the Yours Foundation in the city of Dharmavaram. Lyn is currently here at SEDS as well and the members of the Yours Foundation invited us to come visit Dharmavaram, so we took the 1,5 hours drive up there last Wednesday.
Five of their members already visited SEDS the Sunday before to catch up with Lyn and arrange our visit, so there were a few familiar faces when we arrived in Dharmavaram. We were invited to join for breakfast, so we arrived around 8:30. We were welcomed with open arms and we even got a couple of gifts. We roughly knew the program for the day, which was to visit a couple of schools and hand out sports equipment and other useful things that would benefit the school children.
School visit #1
Our first stop was at an all boys school in the centre of Dharmavaram; we were to hand out sports equipment to the students. As soon as we walked into the school I was surrounded by people and curious students. There was a lot of shaking hands involved and before I knew it, we were standing on a stage in front of a school class while everyone was taking photos. The boys in that class were all sitting at desks that the Rotary club and the Yours Foundation donated to the school. One of the Yours Foundation's members and Lyn gave a speech, while Kirra and I stood somewhat awkwardly on the side. I especially felt awkward and maybe really out of my comfort zone. Kirra knew what to expect but I however found myself in a situation that wasn't really aligned with my perspective on doing good, which I why I found it hard to play along. You see, as we were standing there in front of a school class full of children I really felt like the rich white man; people were making photos of us, the children were applauding, we were being thanked by the Yours Foundation and all the while I was thinking "how did I end up here?".
After another round of photos and selfies we got a tour through the school that ended at the big school stage where roughly 100 students where seated on the floor, while our delegation was to be seated on the stage in front of the children. Just before being announced through the speakers, I was told that I might have to give a speech as well. Yikes, now people also expected me to say something. I felt quite overwhelmed and I felt like I wanted to run away. This was a very different side of doing good and one that I hadn't experienced before; speeches, photos, constantly smiling for the camera, media coverage, the whole shabam. Before I continue writing however, I want to make one thing clear: there's good people with good intentions doing a lot of good stuff at the Yours Foundation and the Rotary club. I'm only saying that I'm more of a behind the curtains kind of guy, but being out there and being covered by the media definitely has advantages for do good projects, more on that below.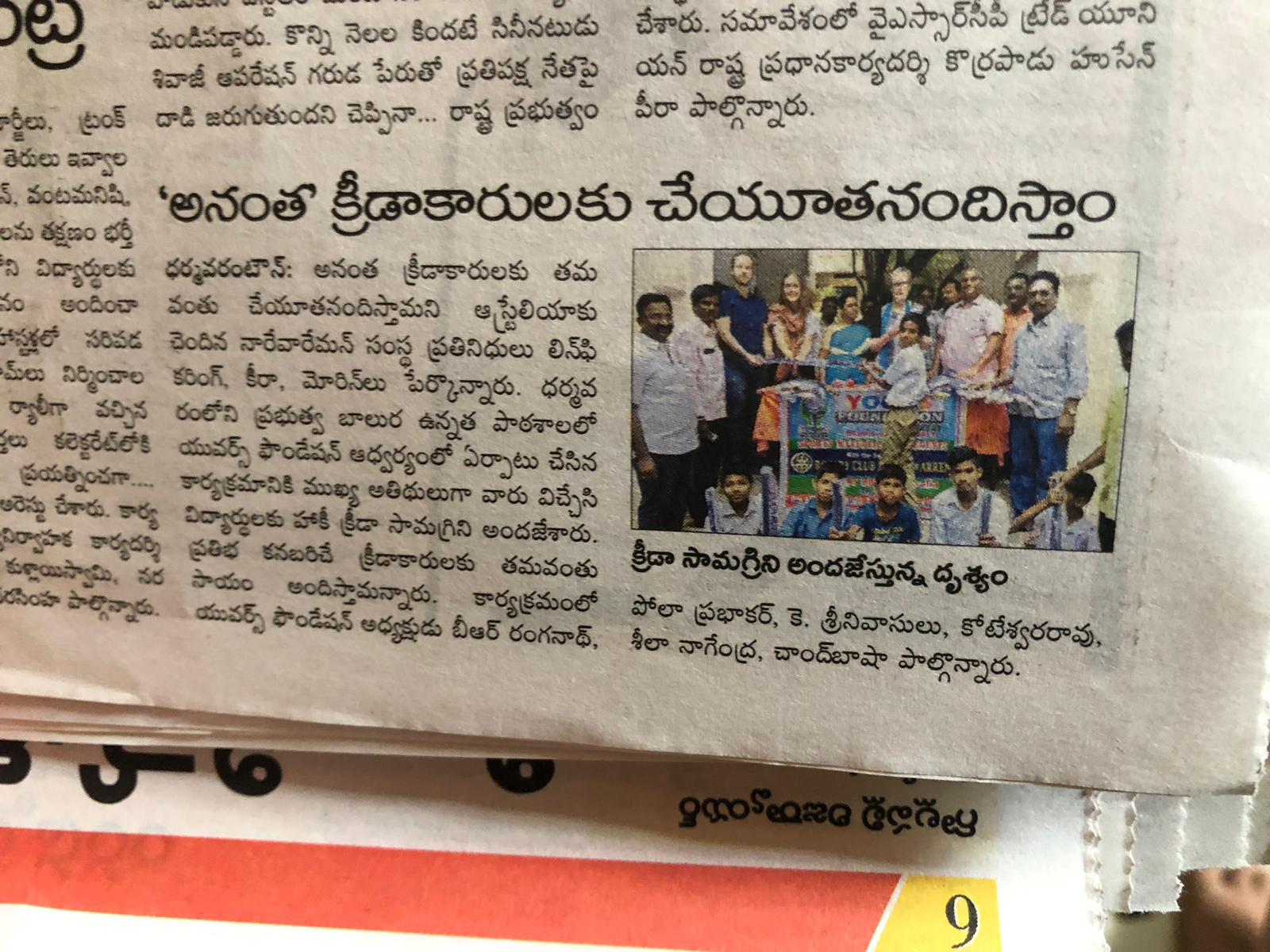 School visit #2
After one last round of photos, selfies and shaking hands, we got into the car and drove towards school number 2, which was an all girls school. We basically followed the same script as at the boys school; we shook some hands, were introduced through the speakers to the 200 some students and we had to give another speech before handing out games to the school children. This time, I was more prepared and Kirra and I both found it easier to play along with the show; Kirra made the girls do a wave and I made them chant "eat, sport, study, repeat" a couple of times (obviously loosely based on "eat, sleep, rave, repeat", but I figured that that was a bit too inappropriate).
[wpvideo F57nzZ2D]
So to sum up our first morning in Dharmavaram: get into a random car, get out when it stops at a school, shake a bunch of hands, give a little speech, smile for the hundreds or so photos being taken and get into the car again, not knowing what to expect next.
And to sum up that: intense.
Indian vs. Non-Indian Millennials
Fortunately, after all of that we drove back to the house where we were staying for the night for a lunch and some chill time. During lunch we really noticed how hard it is to not over eat, not only because the food is delicious, but also because everyone kept insisting that we try this or that out of hospitality. Besides that, we didn't know how many courses to expect, so we ate too much during the first couple of courses, and as everyone kept insisting to try every new course, we found ourselves with a big bloated belly after lunch. So the after lunch, some chill time was more than welcome.
After having rested for an hour or so, the son and daughter of our host took us shopping, as Kirra and I are invited to a wedding in a couple of weeks and I still needed some proper wedding clothes. Surprisingly enough I hadn't packed my suit, how silly! It was very interesting and fun to hang out with these guys, as they're roughly the same age as Kirra and I. We talked about arranged marriage and how their dad is currently looking for a suitable partner for each of them, about how hanging out with your friends in Dharmavaram is as opposed to doing that in Amsterdam, about religion and alcohol and so much more. It's quite interesting to see how people from the same generation can live completely different lives, but are still connected somehow on such a level that you can discuss all of these things without judgement. We ended our shopping spree with a wedding outfit and a nice mango ice cream fruit salad <3.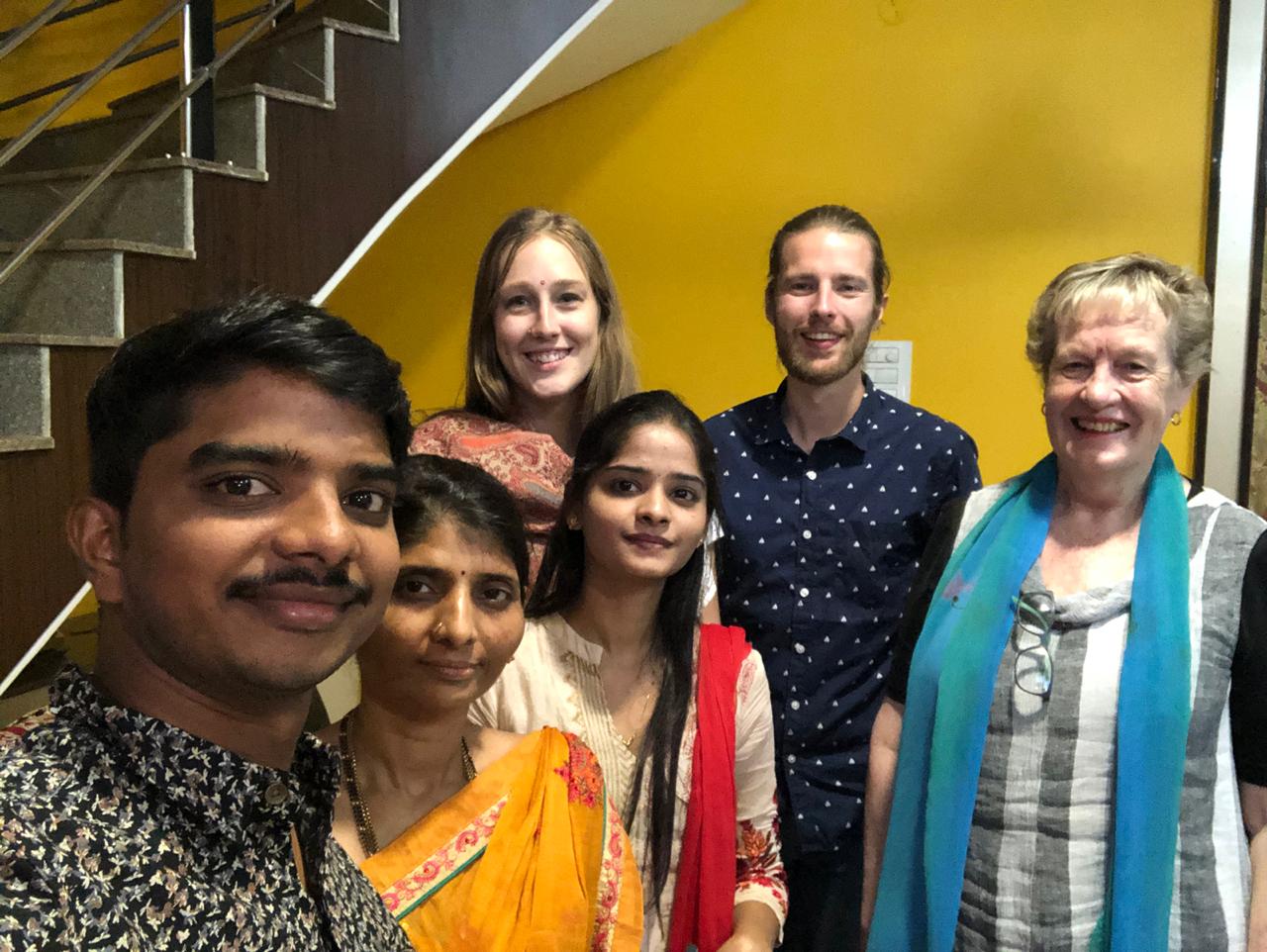 Secretly drinking whiskey and a family dinner
At the start of the evening, we had another very interesting experience. Drinking alcohol in public isn't approved of in Dharmavaram and most people do not allow people to drink alcohol in their homes either. But hey, having a little bit of whiskey is fun of course, so instead we met up with some people at a hotel where a room was reserved for two hours for us to drink alcohol. There were 10 of us cramped in this tiny double bed room, and a bottle of whiskey was already awaiting our arrival. The reason we were having a pre-dinner drinking and chill session was that that night we would have a big family dinner, with most of the Yours Foundation's members and their families. So we left the hotel two hours later and set out to a school that is sponsored by the Yours Foundation. There was still tuition being given, so when that ended, all the students came to say hi to us. They were all very curious about our lives and lifestyles: "Who is your favourite cricket player?", "How do you say 'how are you' in your language?" and also, sadly, "How do I get your colour?".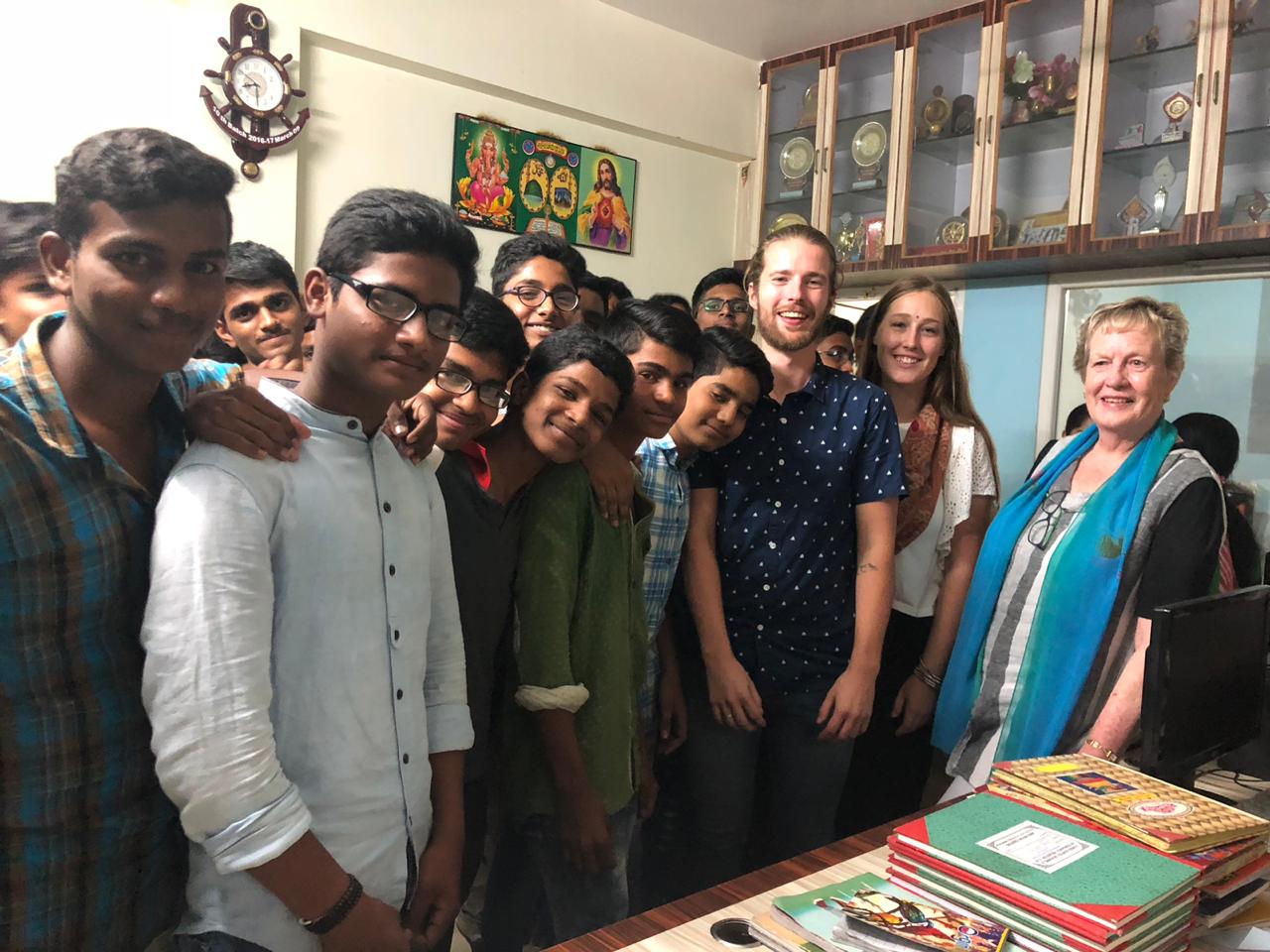 After they students left, it was time for the family dinner in the school's yard. We were all gathered in a big circle, while one of the Foundation's members gave a big speech about the amount of work Lyn and Ian have put into supporting the Yours Foundation and also about their future working together. The speech was really nice, Lyn and Ian and their Rotary club have done a wonderful job supporting the foundation all these years. If anything however, it was also a way to show Kirra and I that the foundation hopes that in the future, when the older generations of both the Rotary club and the Yours Foundation can no longer keep up the good work that they do due to old age, the younger generations like Kirra and myself will take over to keep supporting the do good projects in Dharmavaram.

Being blessed, school visit #3 and handing out food at the hospital
As one of the foundation's members is the guardian of one of the temples, we were invited to visit his temple the next day. We were shown around the temple, whilst being taught all the rituals and how to behave in and around the temple (enter and leave the temple by going around the centre basilisk from the left, for example). We collectively prayed for the goddess, who's mission it is to fulfil your wishes. The temple's guardian is a super friendly guy and after we left the temple, instead of getting in the car to go to yet another school, he told me to get on the back of his motorcycle. As Kirra and I both always want the full experience, I hopped on board and we drove through the narrow streets of Dharmavaram, all the while drawing quite some attention as my long dark blond hair isn't an usual sight, especially not on the back of a temple guardian's motorcycle.
At school number 3, we donated a water pump, which was actually quite cool as this means that the school now has running water. The whole event was the same as described above, only this time we couldn't do the wave and the "eat, study, sport, repeat" as these kids were too young. Lyn however taught them a bunch of English nursery rhymes, which was nice to see!
Our next stop was the public hospital, where the Yours Foundations hands out food for free every Thursday for all the staff and patients. It was a very cool experience, as handing out something so essential for your survival is a very hands-on way of helping people. We met some really kind and warm-hearted people and we were welcomed with a lot of gratitude. Even though the whole experience didn't last much longer than half an hour, we definitely really enjoyed it. And of course, the media was there too.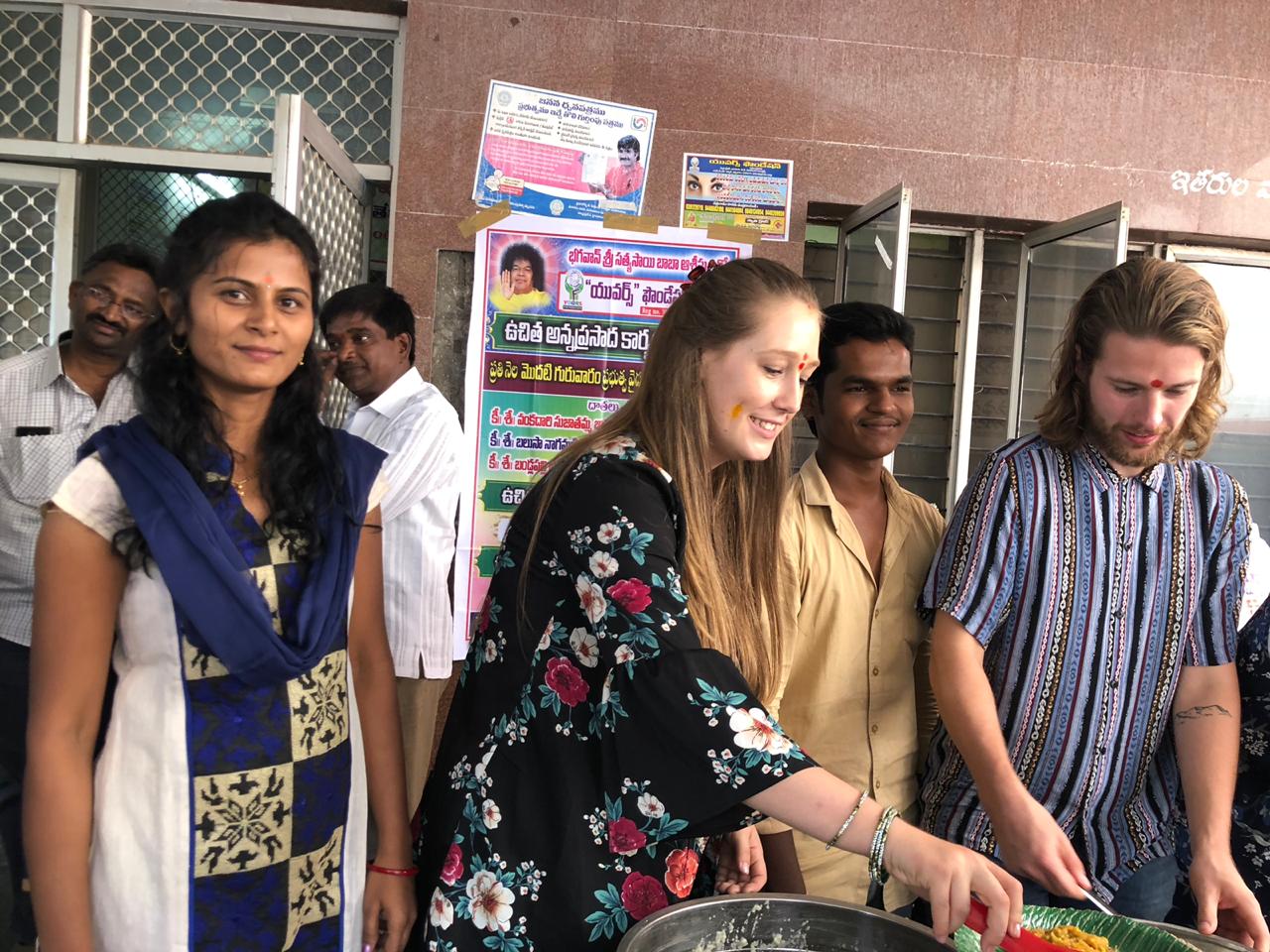 On doing good
These couple of days felt like a crazy rollercoaster. I was put on a pedestal, treated as a celebrity and I had more photos taken of me than ever before. My jaw was aching from all the camera smiles and to top it all of, the next day we were featured in several local newspapers. All of this was done for the sake of doing good and helping people. I left my job because doing good there meant that making more revenue results in creating a bigger impact, but doing good at the Yours Foundation and Lyn and Ian's Rotary club seemed to mean that playing along in this big media circus creates a bigger impact. And I guess both make sense; you need money to be able to support more people and projects and you also need the media if you want to reach more people; either to support or for them to support you. The Yours Foundation created projects that, through media exposure, were taking over by the Indian government and that were subsequently upscaled to benefit not only the people in and around Dharmavaram, but throughout all of India. Meanwhile, my personal value is that doing good should come from the heart, from a purely altruistic motive instead of internal or external motives like money, status or media attention. But how far will that get me? How many people will I be able to help if I maintain that view on doing good? More and more I'm starting to understand that you need a variety of perspectives on doing good and that in order for an NGO / non-profit to be successful, you need not only people that are purely altruistic, but also people that are money-based and that are media-based, amongst others. Even though I felt super overwhelmed and far outside of my comfort zone when we arrived in Dharmavaram, I returned feeling wiser and having a more refined perspective on what doing good means.